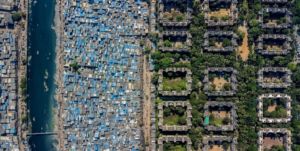 In cooperation with the London School of Economics and Political Science (LSE), GIZ has now launched the Inequality Policy Mix Toolkit.
The Inequality Policy Mix Toolkit has been designed to help users develop an informed policy approach to tackling inequalities in low- and middle-income countries. It draws on the Multidimensional Inequality Framework (MIF) and this multidimensional approach is used to identify a series of inequality-reduction policies which address key quality-of-life domains. In total, the toolkit contains 16 inequality-reduction policies. The selection process involved to identify relevant policies has been drawn from the MIF toolkit and is based on prior expertise. The final 16 policies have then been selected through a consultation process with experts (including practitioners).
In the toolkit, policies are organised according to the seven domains of the MIF and the Sustainable Development Goals (SDGs) of the 2030 Agenda. A review of each policy takes place before the toolkit summarises information on inequalities that the respective policy seeks to reduce, evidence of its effectiveness, potential challenges for its introduction and facilitating factors, along with a broad assessment of potential costs. An important and novel feature of this toolkit is the identification of 'policy mixes', which are combinations of policies likely to be more effective in combination than when being introduced in isolation. In total, four policy mixes can be discovered within the toolkit.
If you want to take a closer look, you can find the manual here.