Global Project on Reducing Inequalities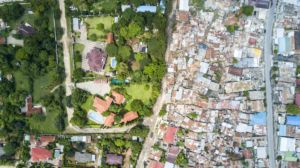 Inequalities are rising or stagnating at high levels in many partner countries of German Development Cooperation (GDC). According to the World Social Report 2020, 71 percent of the world's population live in countries where inequalities have increased. Growing and high levels of inequalities jeopardise sustainable economic growth, political systems and social cohesion. In particular, they marginalize vulnerable sections of the population.
Research about causes and drivers of inequalities has grown significantly. Yet, governments, donors and other developmental actors still face the challenge of identifying a country-specific mix of measures that effectively reduces inequalities.
Therefore, the German Federal Ministry for Economic Cooperation and Development (BMZ) has commissioned Deutsche Gesellschaft für Internationale Zusammenarbeit (GIZ) to implement the Global Project on Reducing Inequalities (GPRI). The project aims to support the development of cross-sectoral approaches to reduce inequalities at national and international level by working together with partner countries and other actors across regions.
The project is structured along three main pillars.
First, cross-sectoral strategies and approaches to reducing inequalities are developed in cooperation with Namibia, South Africa and Viet Nam. The process also involves selected development cooperation projects in the respective countries.
Second, formats enabling peer-to-peer learning will be established. They aim to offer a space for mutual exchange of policy makers, representatives from civil society and scientists from Sub-Saharan Africa, Latin America and Asia.
Third, the GPRI seeks dialogue with multilateral organisations about their role in reducing inequalities. The specialist exchange expands and deepens Knowledge on comprehensive policy-making approaches and therefore promotes the Integration of the approaches and strategies into internal processes. Moreover, the experience of pillar one and two will inform this exchange.
The pilot phase of this Project is scheduled to run until February 2022.
Further information can be found here. Please feel free to contact the GPRI with any further questions via email (inequalities@giz.de).