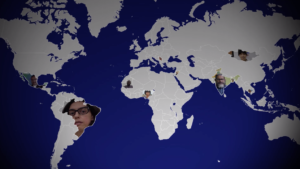 As in previous years, more than 8,000 people attended the European Development Days (EDD) in Brussels in June to share ideas and experiences in ways that inspire new partnerships and innovative solutions to the world's most pressing challenges. This year's EDDs were all about one topic: inequality. Therefore, the overarching title of the EDDs was 'Addressing inequalities: building a world which leaves no one behind'.
The event provided the right setting to present the innovation fund 'Inequality Challenge' and its ongoing projects in detail. Within an interactive project lab, projects from Nigeria (Narrative Geographies), Jordan (Closing the Gap) and from Brazil (Fair Share) presented their approaches, challenges and impacts. The spectrum ranged from a tax calculator showing scenarios for fairer progressive taxation in Brazil, to financial inclusion and empowerment of women in Jordan, to a radio project on urban development in slums in Nigeria.
The speakers Katia Maia from Oxfam Brazil, Barbara Summers from CMAP Nigeria und Byoung Hwa Hwang from GIZ Jordan used a 'light version' of the Pecha Kucha format to present their projects. In other words: 15 slides in 5 minutes and one image per slide presented by the speaker in 20 seconds. As a result, those presentations are much more lively and appealing to the audience. You can watch those three presentations on the Inequality Challenge below this article.
Furthermore, the brand new clip of the Inequality Challenge premiered. The film gives a comprehensive overview of the innovations fund and its 10 projects. You can watch the film on YouTube.
The project lab closed with a panel discussion, facilitated by Joachim Goeske (GIZ, Head of Division G400).
[fvplayer id="2″]
Katia Maia from Oxfam Brasil
[fvplayer id="3″]
Byoung Hwa Hwang from GIZ Jordan
[fvplayer id="4″]
Barbara Summers of CMAP Nigeria