Launch of the Human Development Report 2019 in Bonn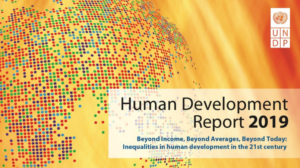 2019 was a loud year, with many people taking to the streets around the world. The demonstrations were directed against social and political grievances, against corrupt elites and rising prices. It was mostly an angry, frustrated and desperate youth who led the call for change and revolution. Despite their different geographical locations or different demands, the demonstrations had one overriding link: growing frustration against rising inequality. To understand this unease, the Human Development Report (HDR) 2019 analyzed inequalities "beyond income, beyond averages, and beyond today".
On the 31st of January 2020, the GIZ sector programme on "Reducing poverty and inequality as part of the Agenda 2030" hosted the launch of the HDR 2019 in cooperation with UN Volunteers (UNV) and the Human Development Report Office. The co-organized event in Bonn was part of a global outreach tour with 120 participants in the auditorium and 650 viewers via live streaming. Toily Kurbanov, Deputy Executive Coordinator, UNV opened the event, followed by two insightful development practitioner testimonies from Ms. Thu Huong Dao, UN Volunteer Disability Rights Officer at UNDP, Vietnam and Mr. Yemi Ahouanmenou, Chief Economist at the Ministry of Finance, Benin.
During the launch, lead author Pedro Conceição of the HDR 2019 presented a new framework that explores different inequalities in the human development. He did not only consider income and wealth – instead a new generation of inequalities must be taken into account, such as climate change and technology as strong drivers. As severe form of inequality, gender inequalities also need to be addressed. Since this disadvantage affects half of the world, it is one of the greatest obstacles to human development.
An interactive panel discussion with Pedro Conceição and Andreas Proksch, Director General, Sector and Global Programmes, GIZ gave participants in Bonn and viewer all over the world the opportunity to learn more about challenges and policies to overcome inequalities within International Development Cooperation and to discuss a new generation of inequalities determining people's opportunities in the 21st century.
Human Development Report 2019 – Beyond income, beyond averages, beyond today: Inequalities in human development in the 21st century (PDF)